Here we'll touch on different types of biomass wood chip for sale in the Man Coed shop, and some recommended uses for them.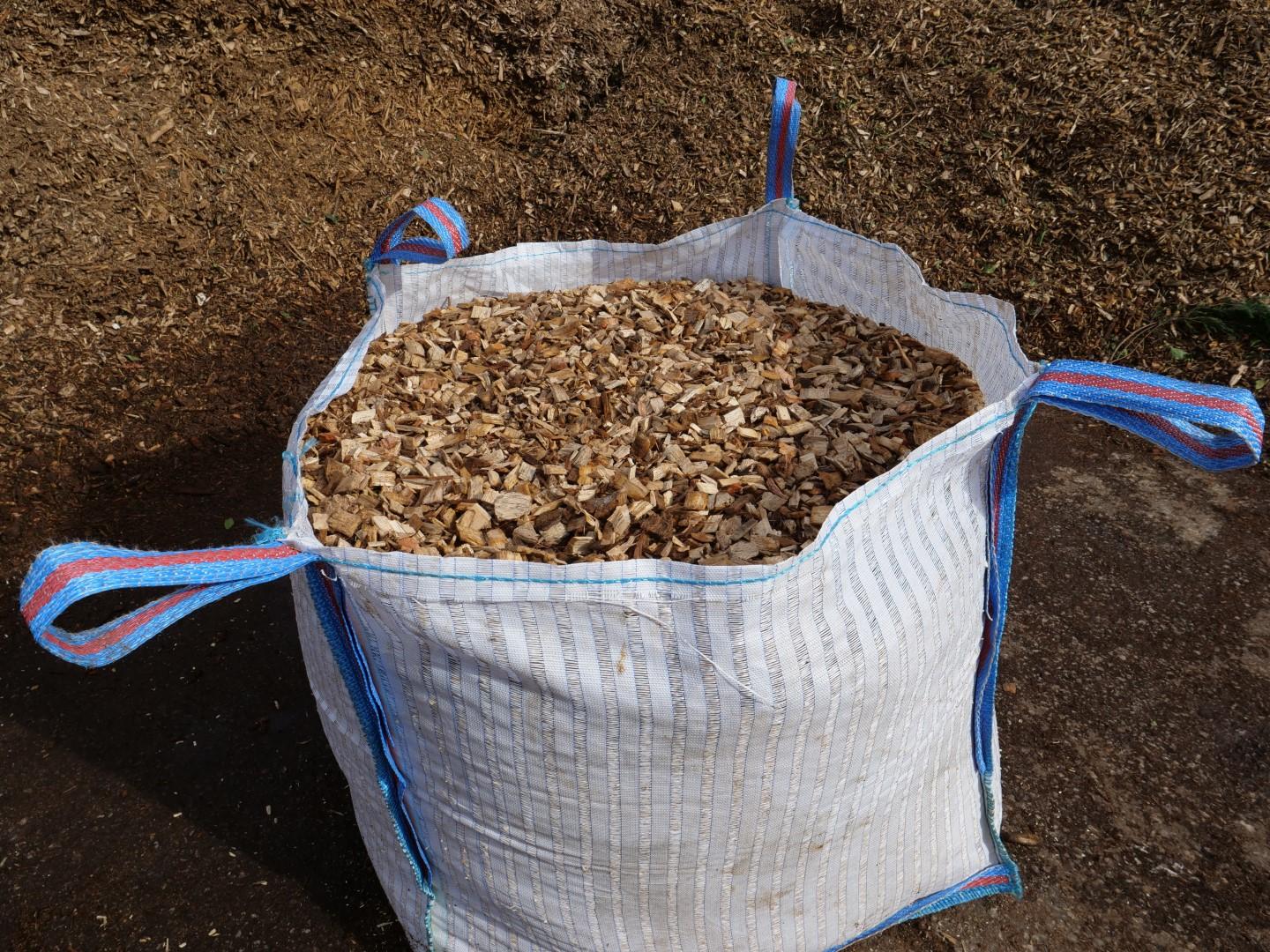 Biomass Wood Chip For Sale!
If you've already spent a bit of time on our Man Coed site, then you may have noticed we're proud of our recycled biomass. That is to say: making sure the trees we perform tree surgery on are able to be reused in constructive ways.
This is one of the reasons why we offer such a wide variety of biomass wood chip for sale. We understand that wood chips have a wide variety of uses. As well as knowing that certain trees just aren't suited to specific jobs.
Here we'll touch on different types of biomass wood chip for sale in the Man Coed shop , and some recommended uses for them.
Our whole tree chips  are created from whole chunks of tree being fed through the industrial chipper. This means that you not only get high-quality wood and bark in your chip, but the leaves or needles too.
This makes whole tree chips a good option for gardening. Not only can you suppress the growth of weeds in flower beds, and line paths, but you can appreciate a hint of green from the freshly laid chips.
You also have the benefit of knowing 100% of the above-ground tree has been retrieved through the whole-tree chipping process! For the environmentalist gardener, this makes whole tree chips the perfect option in regards to biomass wood chips for sale.
Whole tree chips are generally NOT recommended for animal bedding because these pieces are larger and may be eaten by your livestock/ pets. This can cause intestinal damage, as well as some animals having certain aversions to trees that may grow in the UK.
Large, Medium and General Wood Chip
The large wood chip sold in our shop offer the closest option to a good catch-all biomass wood chip. They're appropriate for;
Animal bedding,
Biomass boiler fuel,
Wood fuel production,
Gardening wood chips,
Play area chips.
All of our wood chip is force dried in our specialist facility, currently the only one of its kind in North Wales! Which means if you need a specific moisture content – I.E. for running a biomass boiler , whether it's a standard wood chip boiler or CHP (combination) boiler – then you can request it through our site!
Our Medium biomass wood chip  have less all-round usage but are produced with biofuel needs in mind. If you're new to the world of biomass boilers and fuel then fret not: Man Coed have been recognised by the biomass suppliers list (BSL) for our low moisture, high efficiency woodfuel!
Both the large and medium type wood chip can be made from hardwood, softwood, or a combination of the two.
Our general wood chip can be used for gardening, biomass fuel and animal bedding. These chips are available to buy in lesser amounts without skimping on quality. Our "bale" size (0.89 meters high x 0.40 meters wide x 0.33 meters depth) offers a great option for bulk rodent bedding, at only £7!
Man Coed is set apart by our pride for our work and recycled products.
We're dedicated to making sure that tree waste isn't actually waste, and can play a further role in the community. Be that through heating/powering your home or business; or by simply prettying up the paths and gardens you walk!
So, if you're looking for a great biomass wood chip for sale, then that's our specialty!
Residential or commercial work?
Domestic Tree Surgery
Fully insured team of domestic and residential tree surgeons based in North Wales
BUY WOODFUEL / LOGS
We sell woodfuel and logs. Buy a single delivery or enjoy free delivery with a monthly subscription
ARE YOU A TREE SURGEON?
Offload your brash, woodchip and tree waste at our processing facility in Sandycroft.