At Man Coed we take pride in delivering an excellent quality service, be that during our tree surgery jobs or with products offered in our online shop. This is why we not only offer hardwood, softwood, and mixed wood bags of logs, but also offer bulk options for wholesale.
Our logs are available in small net bags, bulk bags (0.85m high x 0.85m wide x 0.85 depth) and cubic meter sizes. Making it easy for you to find the right amount of wholesale hardwood logs needed for your home or business.
High Quality
Wholesale Hardwood Logs
For the past several years, the team at our Flintshire based processing plant have utilised two 75m2 drying floors to turn would-be wood waste into recycled wood products. This means 100% of the log waste from our daily tree surgery jobs can be dried and processed into high-quality firewood or biofuel; like our slow-burning wholesale hardwood logs.
Bigger tree surgery, or vegetation/ grounds maintenance contracts often entail the removal of many tree limbs – or removal of a tree altogether. This means we have access to a larger variety of trees – and in turn – more wood waste to turn into logs. As such, this offers you the added benefit of allowing us to sell our superb, kiln-dried hardwood logs wholesale, saving you money!
Great Value
for Money Hardwood Logs
For a cubic meter of seasoned, kiln-dried logs you could be looking at anywhere between £160 and £250 depending on the brand and your local area. With Man Coed, a cubic meter of hardwood logs is £140 and you can rest assured knowing the process is recorded and all logs are moisture checked at our specialist facility. We can dry up to 180m³ of logs or wood chips to a 16% moisture content in 24 hours!
Our cubic meter sizes of wholesale hardwood logs are available for repeat deliveries. When selecting "cubic meter" from the dropdown menu , this will bring up an additional checkbox menu allowing you to request a log delivery every month, every three months, or every six months.
You can also select one time delivery if you're not sure just how quickly you'll burn through  a cubic meter of logs
Sustainably sourcing all of our wood through our tree surgery work is the curbstone to our process. It helps in preventing trees from being needlessly cut, for the sole purpose of creating wood products; such as animal bedding or wholesale hardwood logs.
Kiln drying the logs and checking their moisture content allows us to deliver consistent quality in all of our wholesale hardwood logs. With between 14% and 18% moisture content, our hardwood logs should offer the long-lasting, hot burn you expect – if in a stove or fireplace capable of burning hardwood.
Whether it's out during tree surgery operations, or processing the waste gained into great quality recycled biomass products, Man Coed are always looking for ways to improve. The installation of drying floors and biomass boilers was just the beginning!
If there's anything else we can assist you with then don't hesitate to get in contact.
Tree Surgery Services we Offer
Tree surgery is an expansive field that requires professionals with the skills and education to handle a variety of tasks. At Man Coed, we provide many services in North Wales which include:
Commercial Works
Emergency work and much more….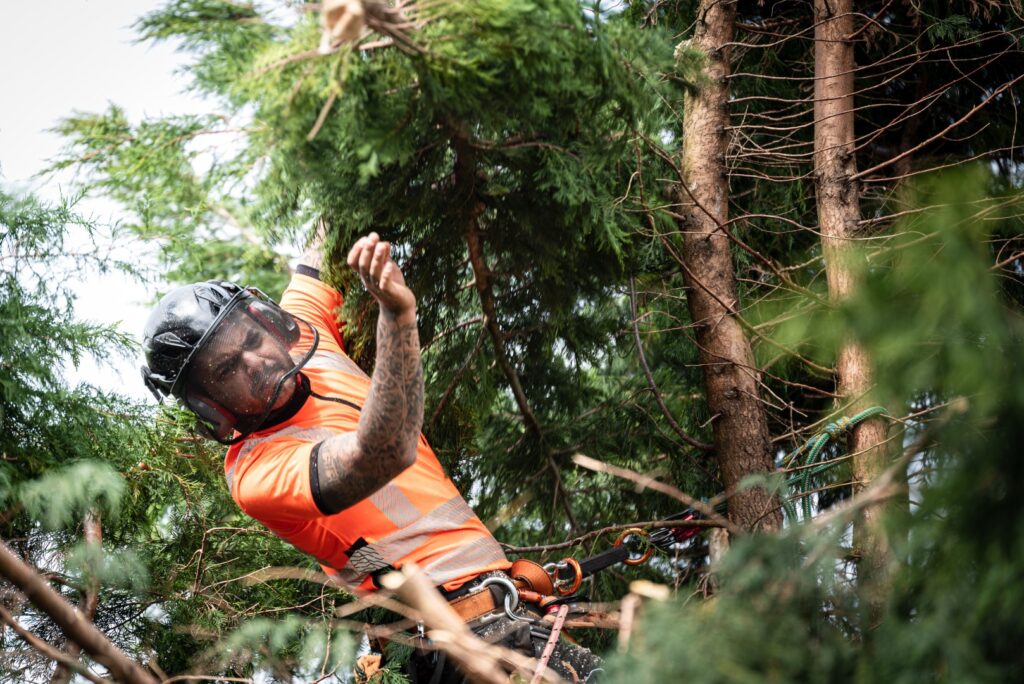 Affordable Tree Surgeon Service
We recycle our waste products in to Biofuel with allows us to offer more competitive prices than our competitors in North Wales whilst providing market leading quality.
As a company, we are continually looking at ways to improve our offerings. We have recently added two T Series Valtras to our fleet, which help us service our large chipping and site clearance work.
With so much experience under our belts, we know how important safety measures are when taking care of trees – both during work hours and while maintaining them as part-time homeowners. For this reason, all employees attend annual training sessions where they receive hands-on education.
We are a premier forestry management company servicing North Wales for all of your residential and commercial needs, with a 4.5 Star rating on Google which says it all. Here at Man Coed, we take pride in the work that we do to make sure you get exactly what you need. If there's anything else then don't hesitate to contact us!
Residential or commercial work?
Domestic Tree Surgery
Fully insured team of domestic and residential tree surgeons based in North Wales
BUY WOODFUEL / LOGS
We sell woodfuel and logs. Buy a single delivery or enjoy free delivery with a monthly subscription
ARE YOU A TREE SURGEON?
Offload your brash, woodchip and tree waste at our processing facility in Sandycroft.
BUY WOODFUEL and BIOMASS ONLINE