TREE Surgery & VEGETATION MANAGEMENT
Man Coed VM Ltd are an award-winning established company with their head office situated in Sandycroft, on the border of North Wales and Cheshire. We specialise in arboriculture, grounds maintenance and biomass fuel production for both commercial and domestic customers.
Our customers include:- 
Domestic / Residential
Local Authorities
Government Bodies
Private Companies
Estate Managers
Residential or commercial work?
Domestic Tree Surgery
Fully insured team of domestic and residential tree surgeons based in North Wales
BUY WOODFUEL / LOGS
We sell woodfuel and logs. Buy a single delivery or enjoy free delivery with a monthly subscription
ARE YOU A TREE SURGEON?
Offload your brash, woodchip and tree waste at our processing facility in Sandycroft.
BUY WOODFUEL and BIOMASS ONLINE
experienced TREE Surgeons
Man Coed Ltd are an award-winning company operating  across North Wales, South Wales and the North West; delivering domestic tree work efficiently, safely, and inexpensively. Our head office is situated in Sandycroft, on the border of North Wales and Cheshire. We can offer a quality, value for money, professional tree surgeon service.
We specialise in tree management, commercial tree surgery, and domestic tree surgery. We can provide advice on all aspects of tree surgery and more; including tree safety, branch dismantling, lowering, and felling.
We have experienced teams of fully accredited staff across North Wales, having access to a wide range of specialist machinery and a large pool of experienced tree surgeons.
Our ability to recycle our waste product and sell as Bio fuel allows us to offer more competitive prices than our competitors across North Wales whilst providing market leading quality.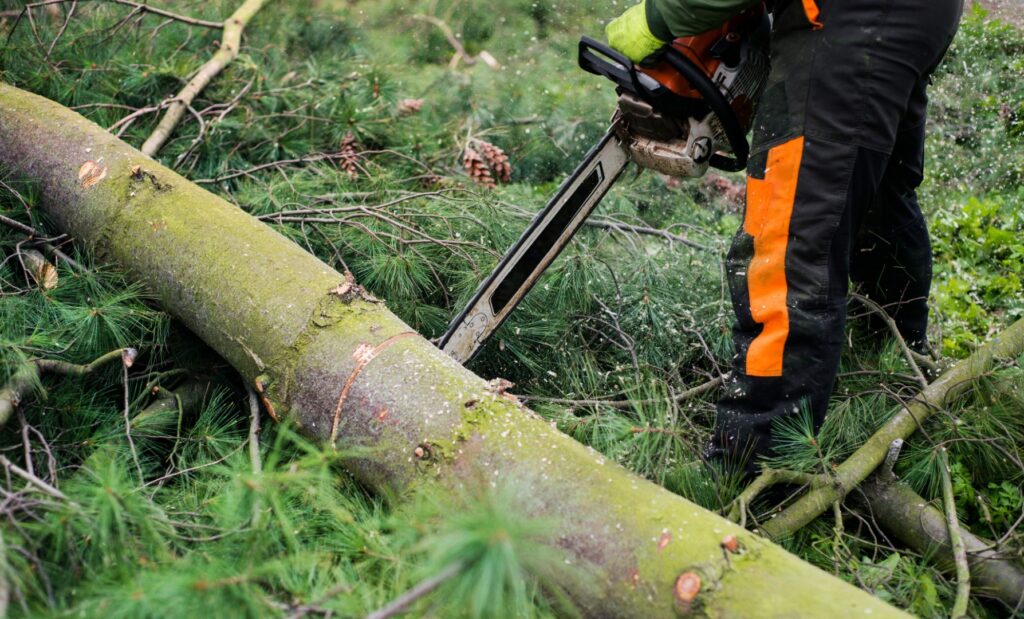 We can take care of tidying up after tree surgeon work. From jobs in your garden, to full-scale forestry management. We ensure your property looks great after we have completed work. Man Coed has extensive experience and skill in tree surgery to deliver excellence across North Wales.
With over 60 full-time tree surgeon staff and a vast range of equipment across North Wales, our custom-built facilities are well-positioned to handle tree management of projects large or small. Whether you're looking for some basic trimming around your pool decking or if it's something more involved like having an entire site clearance before putting up new homes; our team is here in North Wales ready to assist!
We can turn around the most complex of jobs in a matter of days, from first contact to completion.
With so much experience under our belts, we know how important safety measures are when taking care of trees – both during work hours and while maintaining them as part-time homeowners.
For this reason, all employees attend annual training sessions where they receive hands-on education.
We are a premier tree surgeon company servicing North Wales and the North West for all of your residential and commercial needs, with a 4.6 Star rating on Google which says it all. Here at Man Coed, we take pride in the work that we do to make sure you get exactly what you need.
If there's anything else then don't hesitate to contact us!
Areas & Regions we operate
Cost affective forest management Service
We recycle our waste products allowing us to offer more competitive prices than our competitors whilst providing market-leading quality.
As a company, we are continually looking at ways to improve our offerings. We have recently added two T Series Valtras to our fleet, which help us service our large chipping and site clearance work.
LATEST NEWS FROM MAN COED
Reclaim and Maintain VEGETATION MANAGEMENT Our Grillo Climber 10 AWD 27 is a truly unique hydrostatic brush-cutter. The permanent 4WD …